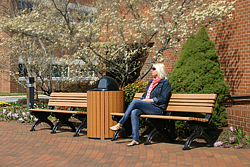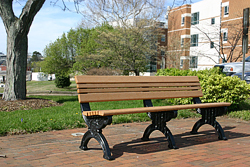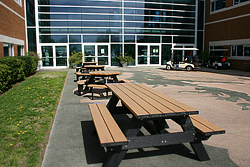 Did you know that in addition to our popular recycling containers, the Fibrex Group has an extensive collection of recycled plastic lumber site furnishings at competitive prices? Recently, the Virginia Institute of Marine Science (VIMS) decided to replace their old, weathered wood benches and trash cans.
Ms. Debbie Galvez, business manager at VIMS, discovered The Fibrex Group on the eVA purchasing portal/directory and decided to give us a call. She realized that due to their scenic, waterfront location that is subject to harsh elements, VIMS required a product that wouldn't rot, crack, split, shrink, chip or require maintenance like similar wooden or metal products. VIMS decided on our stylish 6' Envirodesign Victorian Bench which has the look of cast iron with the durability of recycled plastic. They also purchased various picnic tables including the Hexagon and ADA models to accommodate all of their employees and students, and the Envirodesign dome top waste receptacles. All of which never need painting or treating – and are immune to termites and insects, which is so important in a waterfront landscape!
VIMS' order was promptly delivered by our staff (since we are in the same neck of the woods). All of their site furnishings fit in beautifully with the fresh Spring blooms and their breathtaking location on the river.
By purchasing products manufactured from recycled plastic content, VIMS saved 45,137 milk jugs from being disposed of in a landfill, thus solidifying their commitment to saving the environment and surrounding wetlands. They had indeed "closed the loop".
The School of Marine Science (SMS) at VIMS is the graduate school in marine science for the College of William & Mary. Chartered in 1940, VIMS is currently among the largest marine research and education centers in the United States focusing on coastal and estuarine science. The VIMS 40-acre main campus is located in Gloucester Point, Virginia, near the mouth of the York River, a major tributary and passageway to Chesapeake Bay and the Atlantic Ocean. The VIMS Gloucester Point campus lies about 13 miles east of the College of William and Mary along the Colonial Parkway. The close proximity to the river and ocean takes a heavy toll on outdoor benches, tables and trash receptacles.
In today's environment, buying "GREEN" is more important than ever. The Fibrex Group fabricates 100% recycled plastic lumber made from post-consumer recycled plastic milk jugs. Our products are safe for both children and adults, as they do not splinter, absorb bacteria, or contain chemicals that may leach into the skin or soil like pressured treated wood.
Fibrex benches, picnic tables & site furnishings can be found in school play areas, commons areas, parks, sport & recreation facilities both indoors and outdoors. The uses of these products are limited by imagination only. They are perfect for use trail-side, dock-side, at nature centers, stadiums, and shopping/downtown areas– the potentials are endless!