Get ready for summer with sustainable
Fibrex Group Envirodesign products
We have the perfect amenities for any location!!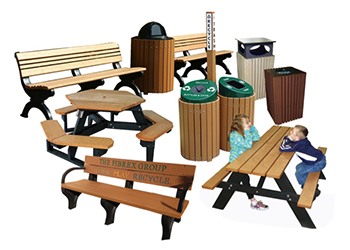 Looking for functional and budget-friendly site furnishings or recycling/trash receptacles for your park, playground or open space? Fibrex has everything you want all in one place. Our Envirodesign site furnishings offer the best construction, sustainable materials and superior styling for your public recreational areas.
With numerous National Park Service, municipal beaches & botanic gardens, our products are located throughout the United States. All of the Envirodesign products are built with stainless steel hardware, recycled plastic lumber made from milk jugs, and are aesthetically pleasing in any environment. The Fibrex Group is known for its extensive and innovative selection of recycling centers, waste receptacles and public area recycled plastic site furnishings. Our pricing is very competitive and budget-friendly for your purchasing agent's ease of use.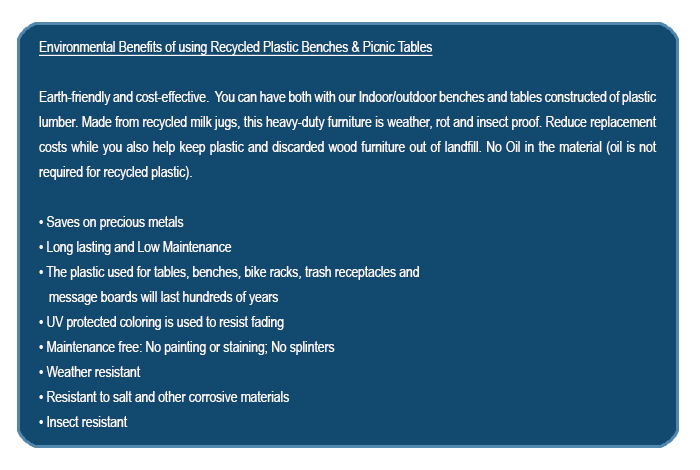 Providing attractive green design recycling receptacles, site furnishings & amenities in public spaces promotes good environmental stewardship while reducing waste and increasing recycling awareness.
Continuously Made in the USA since 1990, our green-design products are made from sustainable resources and always contain the maximum possible recycled content. We offer very competitive factory direct pricing on our entire selection of eco-friendly design products which are built to last and covered by the best warranties in the industry.
Fibrex Group clients can expect superior green design products and dependable customer service support done with pride and attention to detail. Work. Play. Recycle.
© 2018 Fibrex Group, Inc. All Rights Reserved. | Call: 1-800-346-4458. | Email: sales@fibrexgroup.com